---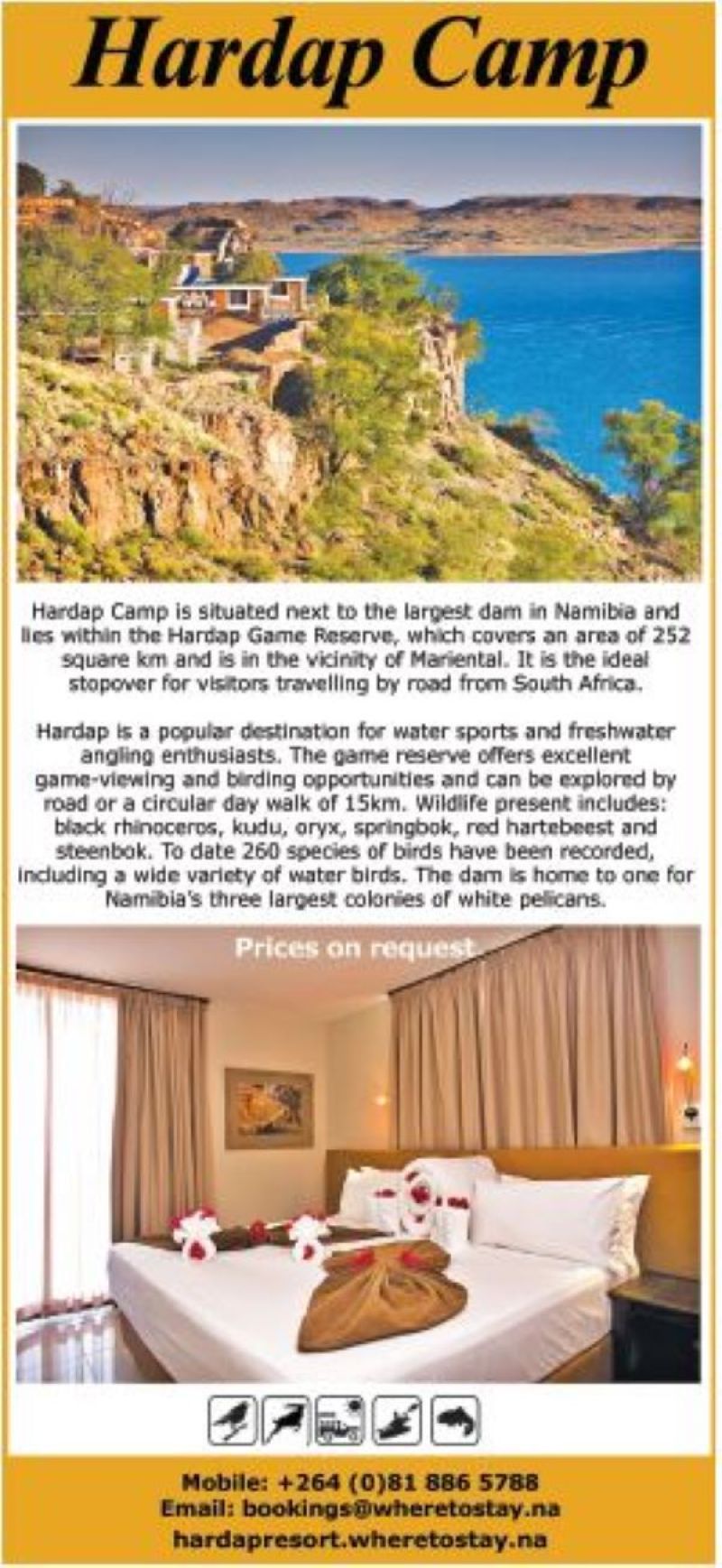 CONTACT:

CATEGORY:
Accommodation: Resort
Group: Namibia Wildlife Resorts


PRICING:
Rates on request


---
Hardap Camp is situated next to the largest dam in Namibia and lies within the Hardap Game Reserve, which covers an area of 252 square km and is in the vicinity of Mariental. It is the ideal stopover for visitors travelling by road from South Africa. Hardap is a popular destination for water sports and freshwater angling enthusiasts. The game reserve offers excellent game-viewing and birding opportunities and can be explored by road or a circular day walk of 15km. Wildlife present includes: black rhinoceros, kudu, oryx, springbok, red hartebeest and steenbok. To date 260 species of birds have been recorded, including a wide variety of water birds. The dam is home to one for Namibia's three largest colonies of white pelicans.
Accommodation:
4 Dormitories, (Each with 10 Beds)
5 VIP Chalets
15 Family Chalets, (Each with 4 Beds)
30 Bush Chalets, (Each with 2 Beds)
28 Campsites, (Each can take 8 People)
Activities:

Game Drives
Walking Trails
Boat Cruise
Facilities:

Restaurant
Swimming Pool
Bar
Send a query via WhatsApp, then Hardap Camp can reply directly to your device.
Your message has been sent.
Copyright: © Where to Stay.
No parts of this website may be reproduced, stored in any retrieval system or transmitted in any form or by any means without the express, written
permission of the publisher. Extreme care has gone into supplying accurate information, however, no liability can be accepted by Where to Stay for any
errors or omissions that may have occurred.
Tel: +264 (0)61 259 293
Fax: +264 (0)61 259 933
info@wheretostay.na